Volunteer with Sea Shepherd Australia
Onshore Application
We are looking for passionate volunteers who are dedicated to helping defend the ocean.
Becoming an active onshore volunteer is a rewarding and fulfilling experience. You will meet many like-minded individuals and learn new skills while helping to protect the ocean.
Join the crew!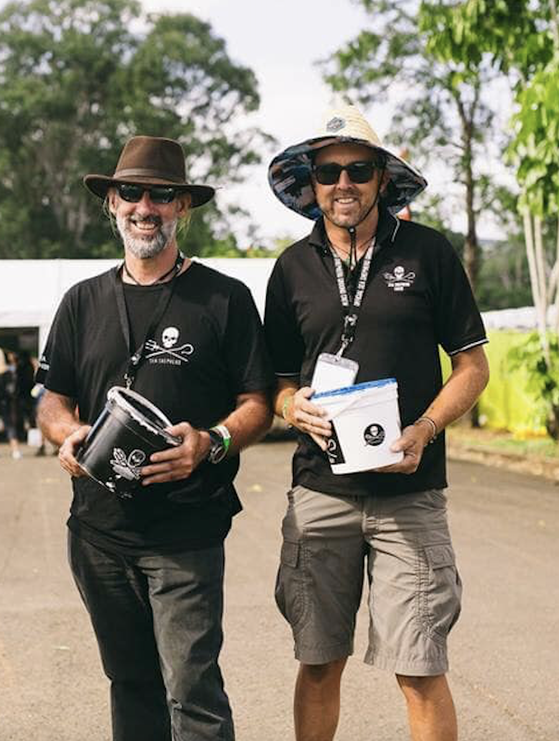 Active Onshore Application Form
Frequently Asked Questions
What are Sea Shepherd Chapters?
Chapters are local groups of Sea Shepherd volunteers who focus on onshore outreach activities.
Are volunteers required to be double vaccinated in chapter events?
Our chapters across Australia will be run in accordance with applicable government directions, order regulations or guidance associated with COVID-19 currently in place.  Subject to change. 
What is the Chapters Vision statement?
To lead, strengthen and maintain public support for our Defence Campaigns by raising awareness, participating in raising funds, and engaging with people through educational initiatives.
The SSAL volunteer program is to achieve measurable benefits for marine conservation.
What are Sea Shepherd Australia's Chapters primary goals?
1. Raise donations to fund Sea Shepherd's Global campaigns
2. Engage with the public to raise awareness on the plight of our oceans
3. Encourage the public to support Sea Shepherd Australia
Why should I join a Chapter?
Sea Shepherd is a global leader in ocean conservation. We have been defending wildlife since 1977 and had some amazing wins. We have identified illegal fishing, climate change, marine debris and threats to vulnerable species as the four most pressing issues we need to tackle in order to ensure the health of the oceans and future of humanity.
These threats to our oceans are increasingly urgent and we need passionate people like you to help make a difference. If you are looking for a meaningful way to take action and want to have a sense of community involvement, then joining a chapter is for you.
There is no other group or movement like Sea Shepherd and our volunteer program reflects that uniqueness in the effort our volunteers put into our onshore volunteer program.
What is my role as an active volunteer?
Being an onshore volunteer means that you are a supporter of Sea Shepherd and our shared causes, donating your time and efforts towards furthering our mission. You are also a part of our Outreach Crew – a growing team throughout the world. Active volunteering requires you to volunteer min one shift every 3 months.
1. Providing a lean, strategic, and effective marine conservation organisation to sustain life in our oceans.
2. We provide a direct-action, hands on approach to the issues impacting our oceans, be that via our ships at sea, or our frontline beach clean-up volunteer teams around the country.
3. On shore volunteers raise funds and awareness in the community.
4. Community, government, and school engagement play a big part of our advocacy to ensure a greater awareness of the importance of our oceans and what role we can all play in protecting them.
Who can volunteer with Sea Shepherd Australia?
SSAL welcomes anyone wanting to share their skills, expertise, passion, and time. Under 18s are welcome.
What does it take?
The onshore volunteer program is hard work and is not for everyone or for every Sea Shepherd supporter. It requires commitment, initiative, sacrifice, and a willingness to go above and beyond.
Helping to defend conserve and protect marine life requires time, dedication, passion, and the readiness to attend and promote our mission through public awareness.
What kind of work do onshore volunteers do?
SSAL offers a diverse range of volunteering opportunities including • Selling merchandise,

• Handing out information brochures at events,
• Collecting donations,
• Signing up supporters to our enews and monthly giving program Direct Action Crew (DAC). • Stocktakes
• Merchandise packing and preparation
• Data entry
• Social media communication • Event planning
• Education Talks and activities • Beach clean-ups
• Fundraising/Events
What length of commitment is expected of volunteers?
We are flexible with each volunteer's time commitment and always strive for long term active volunteers. Volunteers add great value to what the organisation does and supports SS to achieve its mission and strategic objectives.
Will l receive any training?
Volunteer induction/orientation occurs soon after a volunteer is first recruited. It is an Induction/socialisation process in which volunteers are familiarised with the organisation and its key people
Training and development is offered to new recruits and for members who have been with the organisation for some time, but who are taking on a new position, or planning to do so, will also have access to appropriate training and development opportunities.
How will l be supported whilst volunteering with Sea Shepherd?
All Australian Chapters are supported by SSAL Head Office and are overseen by the National Outreach Coordinator. Each Australian Chapter has a Chapter Coordinator who is responsible to guide and oversee volunteers in their work programs.
The Chapter Coordinator will provide you support by:
• Giving encouragement and constructive feedback
• Organising meetings to discuss performance and development and issues of concern
• Offering meetings and training with other volunteers who may be working in a similar role • Sharing feedback from customers or other stakeholders on aspects of service delivery
• Considering your interest in decisions that affect you
• Inviting you to team meetings, special events and social functions
• Celebrating your achievements and efforts
• Where appropriate, provide a reference or act as a referee to your prospective employer
Why is there an application fee?
Sea Shepherd is a non-profit organisation, run purely on the donations of our supporters. To ensure that these donations are not directed away from our campaigns, the fee helps to cover administrative costs involved in processing your volunteer application.
Campfire Management Software- What is Volaby?
Volaby is a software tool built by Orange Sky Australia. It is an on-boarding, rostering, and reward program.  Sea Shepherd Australia Chapters uses Volaby to make an impact more effectively in our organisation. A streamlined on-boarding process that enables new volunteers to apply, input details, upload certifications and get verified all on the one platform.
Please refer to the Volaby Guide for further information or go to guide.volaby.org
Email Volaby Support at support@volaby.org
How is my data protected?
The data that you provided to your volunteering organisation is stored by Campfire and managed by your volunteering organisation.
Please click here to access the Campfire privacy policy and contact your volunteering organisation for information on their privacy policy.
What if there is not a Chapter near to me?
Many of our Chapters are based in the capital city of each state/territory. This does not mean that they do not operate in your area. To find out whether the Chapter has activities in your area that you could become involved with you can send the chapter an email. They may be looking to expand in your area or running events nearby.
Who do I contact if I have any issues with my application?
If you are having any issues with the application form, please email australia@seashepherd.org.au or contact us via 1300 623 267.
There is no other group or movement like Sea Shepherd and our volunteer program reflects that uniqueness in the effort our volunteers put into our onshore volunteer program. We value working collaboratively, so if you have any ideas or skills you would like to contribute please discuss with your local Chapter Coordinator.
There are a variety of ways that volunteers can be involved in chapters including education initiatives, fundraising, social media, community engagement and events. Chapter involvement requires a high level of commitment and responsibility for Sea Shepherd's onshore activities.
You can find a list of current chapter roles here!
Australia
Sea Shepherd Melbourne Chapter
Email: melbourne@seashepherd.org.au
Sea Shepherd Sydney South