Commentary
Sea Shepherd joins Scarborough gas fight
Tuesday, 17 Aug, 2021
Sea Shepherd calls on BHP to halt Australia's most polluting fossil fuel project - Commentary by Sea Shepherd Australia's Managing Director, Jeff Hansen. 
The Intergovernmental Panel on Climate Change, the IPCC is the world's leading authority on climate science. Their recent report states that human activity is changing the Earth's climate in ways unprecedented in thousands or hundreds of thousands of years, with some of the changes now inevitable and "irreversible". Within the next two decades, temperatures are likely to rise by more than 1.5C above pre-industrial levels, breaching the ambition of the 2015 Paris climate agreement, and bringing widespread devastation and extreme weather.
The Woodside and Joint Venture Partner BHP Scarborough gas project is a proposed gas field located north-west of Exmouth on the coast of Western Australia. It will be Australia's most polluting fossil fuel project, bigger than even Adani with 1.6 billion tonnes of CO2 produced or equivalent to 15 new coal plants.
Only rapid and drastic reductions in greenhouse gases in this decade can prevent such climate breakdown, with every fraction of a degree of further heating likely to compound the accelerating effects, according to the IPCC.
"BHP have stated that they are committed to taking action to reduce their carbon emissions. Well, the great news is that here lies an opportunity to not allow Scarborough to go ahead. They have the power to stop this project, to stand with our children that have every right to a liveable climate, and to ensure that that 1.6 billion tonnes of CO2 remain in the sea floor."

- Jeff Hansen
On 17th August, Sea Shepherd attended a Perth rally in opposition to the Scarborough gas project. Photo: Donna Chapman
Sea Shepherd applauds BHP for their desire to exit oil and gas production, however, BHP should not sell out of this project, if they are truly committed to taking action on reducing their carbon emissions. The first port of call will be to not sell their share to any company that will not hold the same moral high ground as they, which would be a nail in the coffin to any chance of a liveable climate for our children. In short, if BHP sells out of Scarborough, they are selling out on our children's real future.
Our ocean provides us with most of the air we breathe mainly from phytoplankton, which means, in reality, the ocean is our primary life support. However, the ocean is rapidly warming and acidifying. We have seen the catastrophic impacts to our Great Barrier Reef or phytoplankton numbers crashing from rising carbon emissions. We simply cannot allow this project to go ahead and we call on BHP to stand on the right side of history here.
"BHP and Woodside's Scarborough climate bomb will also have a direct disastrous impact on our precious marine life via a new pipeline from the Scarborough gas field to the Pluto facility, that would involve dredging straight through the pristine Montebello Marine Park. This pipe would also be laid directly under the migratory route of endangered pygmy blue whales. The project would also affect turtle nesting beaches, humpbacks, dugongs, dolphins, marine snakes and sawfish around the Burrup Peninsula and Dampier Archipelago."

- Jeff Hansen
The rally was attended by Noongar First Nations People, 350.org, Conservation Council of WA and the local community. Photo: Donna Chapman
We all know the heartbreaking story of Rio Tinto's destruction of Juukan Gorge, a 46,000-year-old highly significant Aboriginal heritage site. If Scarborough goes ahead, this would exacerbate the destruction of the Murujaga rock art on the Burrup Peninsula, with increased destructive acid rain pollution, showing once again, be that from BHP or Woodside, any mention of reconciliation is merely tokenistic. This area is also currently being proposed for World Heritage Listing.
The Scarborough gas project is expected to deliver the first LNG cargo by 2026. However, if our children are to have any chance of a liveable climate, we must be net-zero by 2030, not 2050. Australia is ranked worst on climate change policy and Western Australia is the worst state due to rising emissions, mainly from gas. Though we applaud the WA Government's recent commitment to net-zero 2050, this needs to be more aggressive to create the urgency needed and we will not reach any targets by approving Scarborough, Australia's most polluting fossil fuel project.
The McGowan Government has shown great leadership with COVID and we ask them to once again show their stellar leadership steering Western Australia to a rapid, prosperous, renewable future. After all, given climate-induced floods and fires and increased costs and insurances, and the price of renewables coming down, WA is in a prime position to be a renewable superpower and quite frankly any support of this Scarborough gas dinosaur is bad economic management by the McGowan Government. We know they can do better and the next generation deserves nothing less.
"Sea Shepherd is calling on the investors and shareholders of BHP to use your position, to be the voice for our children screaming at us for a liveable climate, to stand your ground and not allow this project to go ahead. Sea Shepherd will stand proudly with you with our ships and crews and supporters globally, for the reality is we cannot allow this project to go ahead and we must do everything in our power to stop it. We ask the board and shareholders of BHP to be real superheroes for our children and stand on the right side of history, for our planet and a liveable climate for all life."

- Jeff Hansen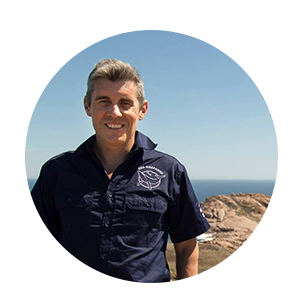 - Sea Shepherd Australia's Managing Director Jeff Hansen