Commentary
Updates from the Field: Christmas Island Marine Debris Trash Bash
Sunday, 31 Oct, 2021
In August 2021, Sea Shepherd crew spent a week cleaning beaches around Christmas Island in collaboration with Eco Crab Industries and Shire of Christmas Island to support the community in their continuous and inspiring effort to keep the marine environment free of plastic pollution.
Located 2,600 kilometres northwest of Perth, this remote Australian territory is famous for its red crab migration and is a bucket-list destination for nature-lovers being home to many endemic species – wildlife found nowhere else in the world. 
Sadly, like many remote islands, Christmas Island has marine debris hotspots so our crew of seven hardworking and dedicated ocean warriors had their work cut out for them. 
Keep reading for updates from the ground from our Marine Debris Campaign Coordinator, Marina Hansen.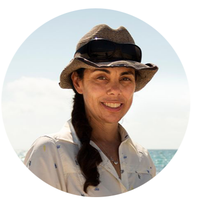 Update One - Greta Beach
In just one day, 975 kilograms of marine debris was removed by our team of seven amazing people from Greta Beach as part of Sea Shepherd's Christmas Island Trash Bash clean-up campaign.
The adjacent cliff formation and small cove at Greta Beach traps marine debris that washes ashore having travelled by ocean currents from neighbouring countries in the region. Located on the eastern side of the island, Greta is a nesting beach for Green turtles so the removal of debris is helping to protect the survival of the species. 
Ferrying near a tonne of debris from the beach to the utes is a herculean task - up four flights of steep stairs and then a 300-metre walk through the jungle! A day in the life of a Sea Shepherd marine debris crew member is not for the faint-hearted!
Tanya from EcoCrab Industries joined us on the beach helping to remove the trash. Several types of the plastic collected during the Trash Bash will be taken to EcoCrab's workshop on the island which see the ocean plastic repurposed into reusable items.
Our crew will be back tackling the pollution issue at Greta and other beaches during Sea Shepherd's Christmas Island 2021 Trash Bash Campaign so stay tuned for more updates!
Thank you to Oliver from the Shire of Christmas Island for sharing his knowledge of the island enabling us to more effectively plan the campaign, lending us equipment and supporting logistics and accessibility.
Take a look at these harrowing images from Day One of the clean-up ⁠⬇️⁠
Update Two - Greta Beach
Following on from a massive first day cleaning up at Greta Beach, Christmas Island (where almost a tonne of debris was removed) Sea Shepherd's crew returned to find the unexpected.
Usually on a remote clean-up, the areas of beach we clean will remain so, at least for a period. What greeted the crew was the beach again covered with debris. Whilst the inundation was much less than the day prior, it was a massive shock.
Speaking to locals the ocean plastics washing ashore day after day at Greta is sadly not unusual.
Whilst initially the crew felt overwhelmed, there was no time to waste. Greta after all is a nesting beach for turtles and that morning witnessing a turtle swimming just offshore, provided the inspiration to press on and work harder.
In addition to picking up the debris, our crew also piled up the large amount of wood that had also washed in. Like debris, wood serves to hinder turtles crawling their way up to nest but also creates obstacles for hatchlings as they race down to the ocean.
What can only be described as a plastic soup just off the breakwater could also be seen – crew member Mike dedicated many hours in the ocean using a landing net to scoop up plastic debris.
 On day 2 of the Trash Bash remote clean-up the six Sea Shepherd crew plus our Christmas Island recycling collaborator Tanya from Eco Crab Industries, removed 770 kilograms of debris. 
When you see first-hand the tide of plastic washing ashore on beaches that should be pristine, it confirms how the proliferation of plastic is impacting ecosystems. The business-as-usual model and current scaling approaches are not ambitious enough. To stem the tide, plastic must be turned off at the source and the producers held accountable for the destruction of the environment.
Take a look at our photos from Day Two of the clean-up ⁠⬇️⁠
Update Three - Film Screening Community Event
It was a night under the stars for Sea Shepherd's Christmas Island Trash Bash crew who hosted a community screening of Chasing The Thunder, the high-seas documentary about Sea Shepherd's epic 110-day, chase across three oceans to shut down a notorious illegal toothfish poacher. The outdoor screening was held at the Christmas Island Community Resource Centre and was attended by 85 locals and visitors to the island.
Our Sea Shepherd crew put on vegan / halal friendly sausage sizzle and merchandise was available to purchase on the night.
Thank you to everyone who came along with their picnic rugs, chairs and nibbles and showed their support to Sea Shepherd. 
The event wouldn't have been possible without the support of the Christmas Island Community Resource Centre, the Shire of Christmas Island, Christmas Island Visitor Centre for promoting the event as well as to Matthew from Rumah Tinggi for lending us drinking glasses for the water station.
In case you'd like to watch Chasing the Thunder at home, you can rent it via the Waterbear platform for $6.96. (You need to log in to your free account first)  
The film screening event ⬇️⁠
Community members watching Chasing The Thunder as part of our Christmas Island Trash Bash campaign. Photo: Dean Chisholm
Update Five - Community Clean-up at Waterfall Beach
Sea Shepherd's Christmas Island remote clean-up team had a fantastic morning hosting a community clean-up at Waterfall Beach. Joining us for the clean-up were 29 volunteers who removed 262 kilograms of debris from this picturesque beach. 
For the 60 bags of debris collected, the top four items were:
Polystyrene
Thongs
Water bottles
Hard plastic pieces
Our crew absolutely loved meeting everyone who came along – many were locals including members of Eco Crab Industries and Island Care Christmas Island and quite a few were people on holiday from Perth and Albany – all coming together to protect Christmas Island's wildlife and taking action on the marine debris issue facing the island.
Take a look at our photos from the clean-up ⬇️⁠
Update Six - School Talk at Christmas Island District High School
Sea Shepherd's Christmas Island Trash Bash crew Mike and Nikky along with our national campaigner Marina embraced the opportunity to speak with students at the Christmas Island District High School.
Across two sessions it was an honour to deliver talks to 70 students across Years 7 to 12 about Sea Shepherd's many marine conservation campaigns. The crew shared information about our Marine Debris Campaign in Australia and also Operation Milagro, Sea Shepherd's campaign to save the critically endangered vaquita an endemic species to the Sea of Cortez in Mexico. The content resonated with the students given the island is home to many species found no where else in the world and some of the island's beaches have hotspots of marine debris.
Thank you to teachers Ms Kylie and Ms Ella for welcoming our crew to the school and for the opportunity to present to so many students.
Take a look at photos from the school talk ⬇️⁠
Update Seven - Robber Crabs at Christmas Island
Did you know that Robber crabs are the world's biggest land crustacean? 
Our Sea Shepherd crew found out just how big they were during the Christmas Island Trash Bash remote clean-up campaign. These fascinating creatures can measure up to a metre across and weigh more than 4kg!
Robber crabs (aka Coconut crabs) have a reputation for scavenging (or robbing) – pretty much anything left on the rainforest floor or beach (including marine debris and other dead crabs) and even freshly laid turtle eggs as our crew discovered when they arrived to clean Dolly Beach. It's no wonder that the survival rate for turtles is anywhere from 1 in 1,000 to 1 in 10,000! Threats include plastic and light pollution, poaching, fishing by-catch, habitat loss, predation and climate change.
Take a look at these enormous Robber crabs ⬇️⁠
A Robber crab at Christmas Island. Photo: Dean Chisholm
Update Eight - Dolly Beach
Our Christmas Island Trash Bash campaign crew shifted their clean-up from Greta Beach to nearby Dolly Beach, a quaint sandy beach that typifies what you expect from an island paradise like Christmas Island.
To get to Dolly you have a 1.5km walk through the rainforest. The team arrived to see stunning rock pools, crystal-clear water, palm trees, a freshwater stream along with turtle nests with several raided by the opportunistic Robber crabs. 
A couple of hours later and the crew had removed 73kgs of debris ranging from thongs, polystyrene, plastic water bottles to broken hard plastics. After days at Greta navigating challenging logistics, the long walk back with the bags of debris over mostly boardwalk was no issue for the crew.
The Shire of Christmas Island provides collection bags for visitors at the carpark and it was inspiring to several of the tourists to Dolly that morning helping to collect debris – people on holiday making a difference!
See photos from our Dolly Beach clean-up ⬇️⁠
Update Nine -  A tragic discovery
During our Sea Shepherd Christmas Island clean-up, we have again seen the devastating impact that plastic is having on seabirds, coming across a common noddy on a nest lined with plastic.
The smallest of Christmas Island's seabirds, the common noddy builds nests in crevices on the sea cliff. Their nests should be made of seaweed, twigs and grass, but sadly this noddy has used pieces of plastic - using straws, pieces of hard plastics, fishing net, a spoon and pieces of water cups.
Christmas Island is an internationally renowned seabird rookery with around 80,000 seabirds nesting on the island each year including the world's rarest booby (Abbott's booby) and frigatebird. Seeing and hearing the birds on the island is pure delight.
Protecting marine life from plastic pollution must be a priority and without delay – we must act now to stop plastic at the source and work together to #StemTheTide.
Update Ten - Plastic toys found on the beach
The things you pick up on remote beaches …like plastic toys!
It's not uncommon for our crew to find chess pieces, wheels, guns, dinosaurs and statues and this was the case at our recent Christmas Island remote clean-up.
These toys now form part of our campaign's educational display materials, used at events and school talks.
Take a look below ⬇️⁠
Update Eleven - Eco Crab Industries
Sea Shepherd's Christmas Island remote campaign received support from local recycling organisation Eco Crab Industries.
Eco Crab was founded by Tanya Cross, a CI local who noticed that the plastic washing onto the island was increasing and that there was no official recycling / repurposing to stop plastic going to landfill.
So, after a lot of research Tanya identified that the best option for CI was the Precious Plastic model where plastic is collected, sorted into types and colours, and then washed and shredded. The recycled plastic is then moulded into reusable forms, like bowls and coasters, and planks for park benches and tables.
We are grateful to Tanya for supporting and working with Sea Shepherd in our clean-up mission at Christmas Island. She didn't just help us on the beach but also generously provided her shed where we took all the 315 collection bags which enabled us to sort and count a portion of the tonnes of debris out of the sun.
Hard plastics from bottle tops, lids and packaging, along with thongs collected by our crew during the campaign were separated and handed over to Eco Crab for processing – to be given a new life on Christmas Island.
See images from our volunteers' time at Eco Crab ⬇️
Watch our video from the Christmas Island 'Trash Bash' 2021 clean-up