Neptune's Navy
The Sea Shepherd Fleet
Since 1977, a number of vessels have served in the Sea Shepherd fleet to protect marine wildlife in direct-action campaigns around the world. Click the links below to learn more about our current vessels used to defend, conserve and protect the ocean.
- Age of Union (formerly M/Y Sam Simon) 
- Conrad
- Selkie
- Bob Barker (retired)
Our vessels
R/V Martin Sheen

M/V Emanuel Bronner

M/Y Triton

M/Y Sea Eagle

M/Y Age of Union

M/Y Ocean Warrior

M/V Allankay

M/Y Jairo Mora Sandoval

M/Y Conrad
Ocean Warrior

Overview
In 2015, at the annual Goed Geld Gala (Good Money Gala) hosted by the Dutch Postcode Lottery in Amsterdam, Sea Shepherd Global was awarded €8.3 million for a "Dream Project" vessel built to "Stop Illegal Fishing in the Southern Ocean".
It was constructed by Dutch shipbuilder Damen in the port of Antalya, Turkey, and christened Ocean Warrior in September 2016. Its maiden voyage was Operation Nemesis, Sea Shepherd's 11th Antarctic Whale Defense Campaign, in 2016/2017.
The M/Y Ocean Warrior is Sea Shepherd's first custom-built ship, and the fastest in the fleet, reaching speeds over 25 knots.
Technical Information
Type

Patrol vessel

Launched

2016

Weight

454GT

Length

54m

Speed

25+ knots

Max Crew

16
The M/Y Age of Union was formerly the M/Y Sam Simon
Age of Union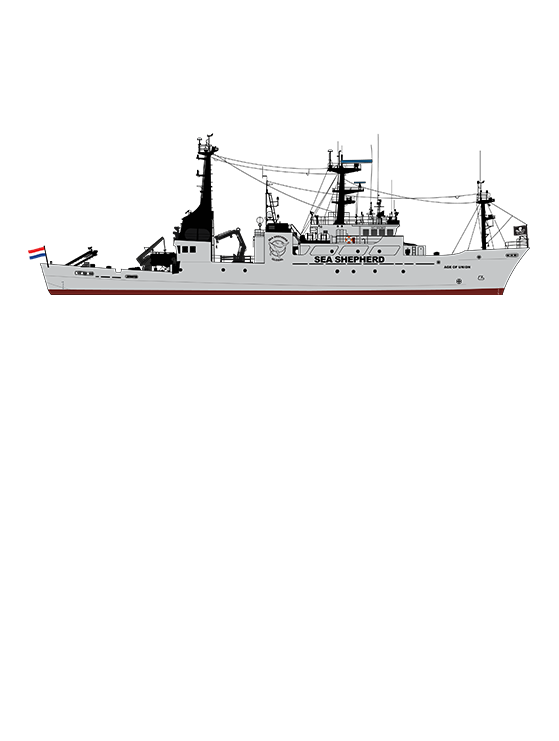 Overview
The Age of Union, previously known as the Sam Simon, was named after our partners at the Age of Union Alliance, following a very significant pledge of support at the very beginning of 2022.
The vessel first joined the Sea Shepherd fleet under the name Sam Simon, after the Hollywood producer and animal rights advocate who served on Sea Shepherd's Board of Advisors until his passing in 2015. His generous donation made it possible to purchase the former Japanese vessel in 2012, when it joined its first Antarctic Whale Defense Campaign that December, Operation Zero Tolerance.
The Sam Simon, originally named the Seifu Maru, was a Meteorological Observation Ship for the Japanese whaling fleet.
Technical Information
Type

Research/survey vessel

Launched

1993

Weight

720GT

Length

56m

Speed

11 knots

Max Crew

35
Sea Eagle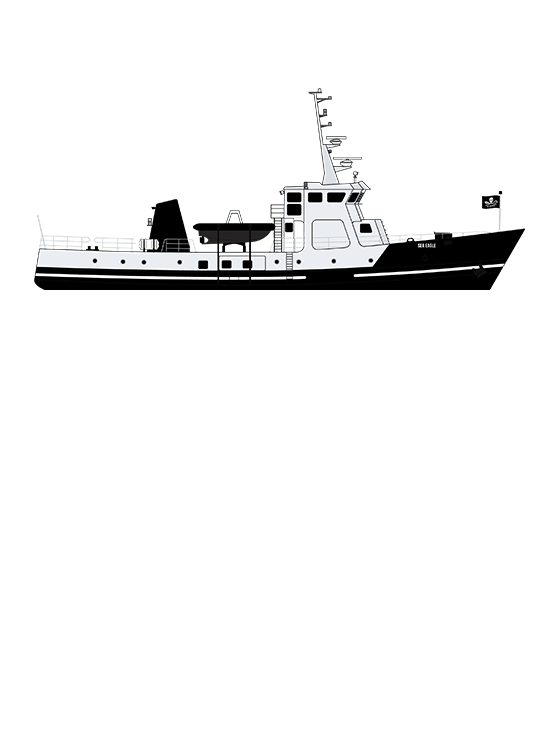 Overview
In 2021, the Sea Eagle was purchased through funding from Allianz SE, Allianz Technology, and Allianz Italy as part of Sea Shepherd's new two-year partnership with Allianz to address the issue of plastic marine debris polluting the ocean.
The vessel is a former French pilot boat that carries two small boats. Having been built for the Atlantic Ocean, the ship is capable of navigating the roughest seas.
Technical Information
Type

Pilot vessel

Launched

1986

Weight

318GT

Length

34.95m

Speed

12 knots

Max Crew

19
Conrad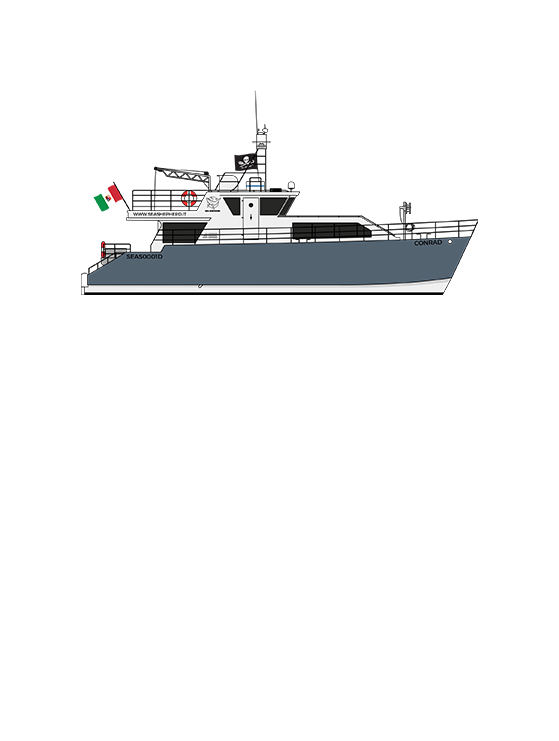 Overview
The Conrad is a 17-meter catamaran donated by Jane Patterson and Sebastiano Cossia Castiglioni (the latter a member of Sea Shepherd Global and US Board of Advisors and Sea Shepherd Italia's Council of the Wise) in 2020. 
Equipped with a RHIB fast boat, the Conrad has been used on OperatIon Siso: our campaign to protect Italy's Mediterranean waters from illegal fishing. 
Technical Information
Type

Catamaran

Launched

2020 (by Sea Shepherd)

Weight

30 GT

Length

17m

Speed

17 knots

Max Crew

4
Selkie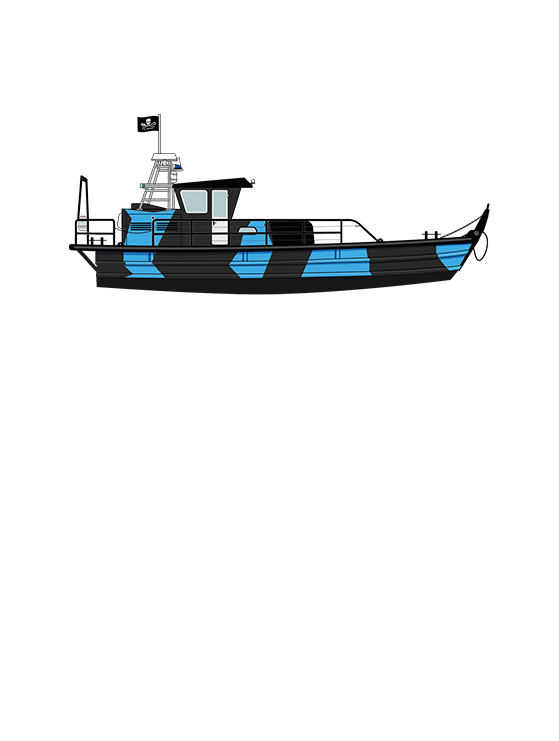 Overview
Sea Shepherd's first landing craft was named by Captain Paul Watson after the Selkies (seal folk) from Celtic and Norse mythology.
Commissioned by the Ministry of Defence in 1984 and completed in 1985 at the Souter shipyard at Cowes (Isle of Wight, UK), the Landing Craft Vehicle Personnel (LCVP) Mk.4 was designed to operate from the Royal Navy's amphibious warships HMS Fearless and HMS Intrepid. Decommissioned in 2012 then fully re-built in 2016 with further modifications in recent years, LCVP Selkie opens up more possibilities for Sea Shepherd UK's campaigns than traditional boats and RIBs with the ability to land on almost any beach, embark a load of 5500 kg and then retract back to the sea.
LCVP Selkie will now be tasked on coastal patrol work, diver deployment, ghostnet recovery, and marine debris retrievals from otherwise inaccessible areas of the UK's coastline and islands.
Technical Information
Type

Landing Craft Vehicle Personnel

Launched

1985

Weight

11GT

Length

14m

Speed

20+ knots

Max Crew

8
Emanuel Bronner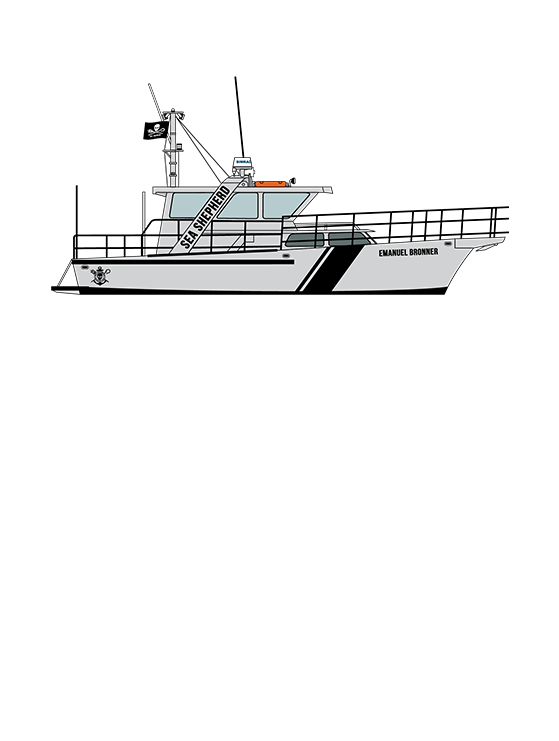 Overview
The Emanuel Bronner is a small ship owned and operated by Sea Shepherd as a Baltic Sea conservation patrol vessel. Unveiled in 2017, the ship was donated by philanthropist Michael Bronner and named after his grandfather, Emanuel Bronner. The vessel is responsible for helping to protect the endangered harbor porpoise in the Baltic Sea. 
Technical Information
Type

Patrol vessel

Launched

1970

Weight

9 GT

Length

11.65 m

Speed

20 kn

Max Crew

4
The M/Y Bob Barker confronting the Japanese whaling fleet in Antarctica
Bob Barker (Retired)

Overview
Thanks to a $5 million contribution from the legendary American game show host Bob Barker, in 2009 Sea Shepherd secretly purchased and refitted a former Norwegian whaler in Africa. The ice-strengthened chaser boat quietly departed from Mauritius on December 18th for its first mission against the Japanese whaling fleet, Operation Waltzing Matilda.
The Bob Barker originally operated as a whaling ship until 1962, and later confronted Sea Shepherd during its life as a Norwegian Coast Guard vessel.
Technical Information
Type

Long-range ice class research vessel

Launched

1950

Weight

488GT

Length

52.2m

Speed

15+ knots

Max Crew

36
M/Y Steve Irwin and the Humber small boat
Steve Irwin (Retired)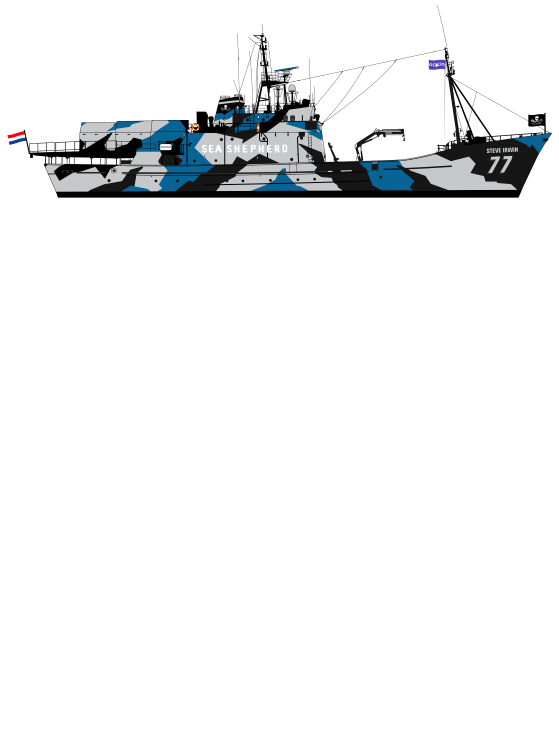 Overview
Purchased in 2007, Sea Shepherd's former flagship vessel was previously operated by the Scottish Fisheries Protection Agency. It was initially named Robert Hunter after the Canadian co-founder of Greenpeace who died in 2005.
Its first expedition was the 2006/2007 Antarctic Whale Defense Campaign Operation Leviathan.
The ship was renamed Steve Irwin in December 2007 in honor of the late Australian conservationist and Sea Shepherd supporter. 
Technical Information
Type

Island class patrol vessel

Launched

1975

Weight

1017GT

Length

59.5m

Speed

15 knots

Max Crew

42
Thank you. Please consider sharing with your family and friends to help save more marine lives!