News
Over a Decade Protecting the Ocean: Thank you Marina Hansen – Ocean Plastic Defence Campaigner
Monday, 20 Dec, 2021
Thank you to Marina Hansen for many years of service to Sea Shepherd and to the cause of protecting and defending life, diversity and interdependence in our ocean.
- A message from Sea Shepherd Australia's Managing Director Jeff Hansen on behalf of all the team at Sea Shepherd.
Recently, veteran Sea Shepherd volunteer and staff member Marina Hansen stepped down from her role as Sea Shepherd Australia's Marine Debris Campaigner.
Marina first joined the Fremantle chapter of Sea Shepherd way back in 2007 under the leadership of Louis Bell. From that day forth, Marina has brought a level of professionalism to the team and a work ethic that matched the relentless passion of Sea Shepherd volunteers globally on the frontline of marine conservation.
Like all Sea Shepherds connected across this blue planet, Marina joined the fight armed with a love of nature, from whales to seals to krill. Marina has shown a deep understanding of nature's ecological importance; in that we need nature, nature does not need us. Nature is our life support.
Marina during a remote clean-up at Christmas Island in 2021. Photo: Dean Chisholm
"When Sea Shepherd Australia began, Marina was there as a motivating leader, helping us to be established and to grow. Her passion, her dedication and her resolve has saved thousands of lives. As a mother, she is an inspiration to her children and as a wife and an activist, she has lent her wisdom and strength in supporting the successful efforts of her husband and the entire Sea Shepherd Australia team. She is and will remain a Sea Shepherd legend."

- Captain Paul Watson, Sea Shepherd Founder
Marina was instrumental in raising funds and awareness for Sea Shepherd as one of the key leadership team members of the Fremantle chapter, especially during the days of the iconic Antarctic Whale Defence Campaigns. With Marina's extensive media and external affairs background, Sea Shepherd crew - be that Peter Hammarstedt or Captain Paul Watson -  were in safe hands with a professional, detailed schedule of their media and other engagements organised and printed out upon touching down in Perth. Marina would even put together information about any new places they were going to or key people they would meet.
With whaling ended in the Southern Ocean, and the retirement of the Steve Irwin, Sea Shepherd needed a local hands-on campaign to inject its energy and passion into. As a result, Sea Shepherd's ocean plastic defence campaign, the Marine Debris Campaign, was born.
Marina and her 'trashy' friend Liza Dicks kicked off the marine debris campaign in Australia in Fremantle, Western Australia, back in January 2015. Marina and Liza could see that alongside stalls, beach cleans gave volunteers the opportunity to be able to take direct action and protect the ocean, especially as not everyone is in a position to be able to go on the ships. However, beach cleans were something everyone could take part in and enable Sea Shepherd to engage with the local community, thereby giving Sea Shepherd the opportunity to showcase our other work and campaigns, as well as highlighting the issue of marine plastics.
An important component of the clean-ups was to collect data and to have our own data base to share to other stakeholders. This would shine the spotlight on the growing issue of marine plastics on the beaches and provide evidence to governments so action could be taken to stem the ride of plastic in our ocean. Sorting and counting the trash opened the eyes of the public to the quantity and types of pollution within the marine environment, and from this better choices around plastic use could be made.
The Fremantle clean-ups were very successful and demonstrated there was a need for monthly events, with a goal to take the campaign national - and even global - through various Sea Shepherd entities. Naturally, the Sea Shepherd Australia Board embraced the idea.
Sea Shepherd Marine Debris Campaign volunteers with Rangers from the Dhimurru Aboriginal Corporation. Photo: Eliza Muirhead
The campaign then grew once again by taking on large scale remote clean-ups in some of the most remote, hot and toughest locations. Sea Shepherd always prides ourselves on doing what others can't or won't, and our remote clean-up campaigns were no different. With a relentless work ethic, regardless of the heat, lack of sleep or even crocodiles, Marina, Liza and all the crew rolled up their sleeves and got on with the job that needed to be done, with the driver that every piece removed was a potential marine life saved.
At times, the campaign was very overwhelming where, as quick as our teams would be cleaning up the beach, more plastic would be coming in on the next tide. However, quitting is not in our shepherds' DNA, and the alternative was to do nothing, which was simply not an option for our crews.
Marina pictured with Sea Shepherd Australia's National Remote Clean-up Campaigner, Liza Dicks. Photo: Eliza Muirhead
"Marina and I have been bouncing trashy ideas off of each other for over 6 years, and we have never been short of plans and pathways to develop the Marine Debris Campaign. It has come a long way since 2015 where beach cleans in Fremantle were started with just chapter volunteers and now the issue is being actioned by many Sea Shepherd chapters in Europe and the USA as well as even ghost net campaigns from the ships. From little things big things grow and it has been a wonderful journey that I have loved sharing with Marina and she should be very proud of the integral part she has played in all of this effective and vital work for our ocean."

- Liza Dicks, Sea Shepherd Australia Remote Clean-up Campaigner
Although it takes everyone from the donors, supporters, staff and volunteers to make our campaigns possible, it's the leaders (like Liza & Marina) that drive the success and spearhead the campaigns and initiatives.
In Marina's time with Sea Shepherd, she truly has achieved and been a part of facilitating some remarkable ocean plastic defence results, real tangible outcomes for our ocean. Here is a snippet of achievements:
- Crew member: Untrashing Djulpan, 2018 & 2019, working with the Dhimurru Aboriginal Corporation to clean up sacred Country and critical sea turtle nesting habitat in North East Arnhem Land
- Crew member: Cocos Keeling Islands clean-up 2020 & 2021
- Crew member: Christmas Island clean-up 2021
- Instrumental in securing the funding for the 2021 Indian Ocean Territories clean-ups and overseeing the campaign media
- Organised and ran a corporate partner clean-up
- Education talks to various schools in the Perth metro area at all levels
- Ran the Fremantle Marine Debris team with countless clean-ups over many weekends. This was a massive task of setting-up and then bringing all the gear home, tubs, bags and gloves for washing and drying for the next clean-up
- Worked with Grahame Lloyd in securing Australia's first ever Government grant for the Waves of Change Programme of clean-ups and events.
- From 2019 Marina & Sea Shepherd submitted State & Federal Government submissions relating to plastics, pollution and the environment including:
NSW: Waste Avoidance and Resource Recovery Amendment (Plastics Reduction) Bill 2021 (May 2021)
QLD: Waste Reduction and Recycling (Plastic Items) Amendment Bill 2020 (Jan 2021)
Federal: Recycling & Waste Reduction Bill 2020 (Sept 2020)
QLD: Waste Reduction and Recycling (Plastic Items) Amendment Bill 2020 (July 2020)
- On 29th July, 2020, Marina represented Sea Shepherd at the Senate Committee hearing into the Plastics and Packaging Bill. Sea Shepherd was one of only two conservation organisations to give evidence. After many years of Sea Shepherd advocating against single-use plastics,the 20/21 financial year saw the many public consultations by state and territory governments coming to fruition with the announcements of regulated plans to address plastic waste and pollution in South Australia, Western Australia, Australian Capital Territory, Queensland, Victoria and New South Wales. State-based legislative bans commenced in South Australia in March 2021.
- On 9th December 2020, the Australia Senate passed the Recycling and Waste Reduction Act 2020, which establishes the framework to regulate the export of waste materials, in line with the agreement to ban the export of waste plastic, paper. Bans commence on 1st January starting with glass, followed by mixed plastic on 1st July 2021.
- Recognising our remote campaign achievements at Djulpan with the Dhimurru Rangers, in early 2021, Sea Shepherd was invited to be part of the Federal Government's Gulf of Carpentaria Ghost Nets Stakeholder Group. Representing Sea Shepherd was Liza Dicks and Marina. The workshops looked into potential options for investment by the Federal Government's Ghost Nets Initiative for locating and tagging, ghost net and marine debris retrieval, capacity building, data management and responsible disposal and recycling in the Gulf of Carpentaria. We await the Project's Feasibility Study currently with Government for consideration and evaluation.
- In December 2020, Sea Shepherd's Marine Debris Campaign was a finalist in the Victorian Premier's Sustainability Awards 2020 for Environmental Volunteering. The awards recognise and celebrate Victorians who are leading the way to a sustainable future, and we congratulate all our Victorian volunteers for achieving this nomination and their ongoing commitment to protecting marine life and coastlines from increasing plastic pollution.
Campaign stats since the 2015 foundation of the campaign:
- Over 870 clean-ups
- Over 7 million pieces of marine debris removed
- Over 100 tonnes of marine debris, plastics, rope and fishing net removed
- Over 642 kilometres of Australia's coast line cleaned
Removing trash from Djulpan in North East Arnhem Land. Photo: Eliza Muirhead
"Marina has been one of the pillars of our Marine Debris campaign. She not only helped Sea Shepherd to manage and expand our MD campaign, she also personally stood on remote beaches and cleaned and documented tonnes and tonnes of plastics and other debris. Thanks to her hard work, many turtles can safely nest on the beaches that are now free of the washed up nets and other killing traps. Marina's work will be dearly missed."

- Alex Cornelissen, Sea Shepherd Global CEO
Marina and Sea Shepherd volunteers during a remote clean-up at the World Heritage listed Ningaloo coast.
"Sea Shepherd has always been about passionate individuals willing to get their hands dirty, something that Marina has done very literally on remote beaches ranging from Cocos Keeling to Arnhem Land. Marina and her team have saved marine wildlife with each piece of plastic pollution, painstakingly removed from Australia's most beautiful marine ecosystems. There is no greater legacy to Marina's years of effort than the pristine beaches and sea turtles saved in the wake of her leadership."

- Peter Hammarstedt, Sea Shepherd Global Head of Campaigns
Marina's work ethic for the ocean and marine life never wavered, nor her relentless passion for defending the defenceless. She brought the smarts, professionalism, passion and love of the natural world with her in every piece of work she did or section of beach she cleaned. Although she was at times far from the family, she wanted to be able to look her children in the eyes and tell them when our ocean and marine life needed help, she held fast, stood up and acted. At the end of the day, Marina was her own toughest critic, always striving to excellence in everything she did for the Sea Shepherd team, and by that token, Sea Shepherd got tremendous bang for their buck.
Thank you Marina Hansen for all your tireless efforts for all you did as part of Neptune's Navy on the frontline for ocean conservation to make our world a better place!
You truly have created a legacy, for the Marine Debris Campaign, for our precious marine life, for the ocean and for future generations.
You should hold your head up high, for what you and the teams have achieved.
With great respect and appreciation. 
For the Ocean,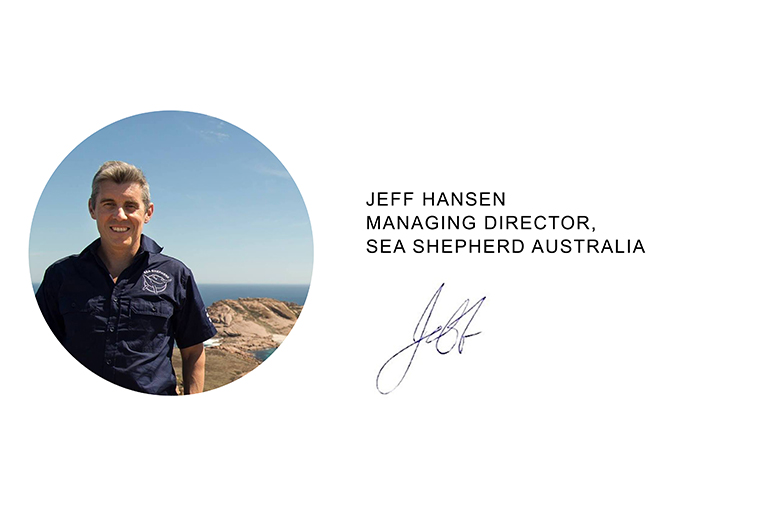 Removing polystyrene floats from the beaches of the Cocos Keeling Islands where over 11,000kg of trash was removed in 2020. Photo: Jake Parker